War! Joint Proclamation
Sometimes things happen that make us set aside our differences and unite for the common good. I am pleased to say that the Alliance and the Axis of Naughty have been able to set aside our petty squabbles and agree on something.
What is that something?
A proclamation. A coronation, if you will...
Bill Cimino, proud SuckWatcher that he is, shall henceforth and forever reign as the King of Suck.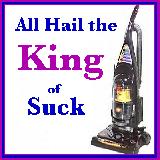 A more worthy recipient of the title does not--nay, could not--exist!
All hail the King of Suck! May he suck hard and long!

Posted by Jennifer at November 13, 2003 12:04 AM