*Prize: Decided
After spending 60 seconds in the local Hallmark store much consideration, I have decided on the 100,000 referral prize.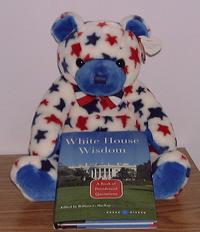 (click to enlarge if you wish)
The bear's name is "Blue" and he's one of those Ty Beanie things...but not one of the little ones. He's 9 inches tall, sitting like that. The book is a little book of presidential quotes. I bought them both today and now I just need to find a decent box to send them in.
So refer people and win!
Posted by Jennifer at December 12, 2004 03:06 PM