Much Better Prizes
Blogless Pete, who had a blog for a short time before abandoning it to resume his career as a blog commenter, is a father again...
Katelyn arrived today at 5:36pm . Mother and baby are doing just fine. 5 lbs 2oz & 18" long.
Yay for early Christmas presents and tax exemptions!
***UPDATE: Making her blog debut...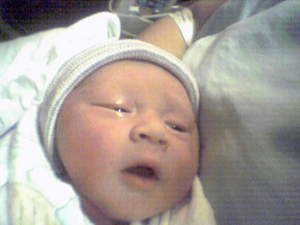 (click to enlarge)
Posted by Jennifer at December 21, 2005 09:19 PM | TrackBack