*Close the Windows
So. Floodwaters did not come into my apartment, but they came awfully close.
It smells a bit.
But nothing like how it smells here: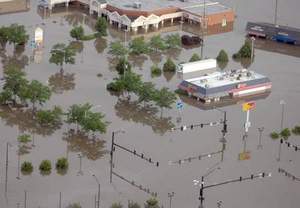 (click to enlarge)
That is the nearest major intersection to my building, and I hadn't driven there until this evening...the road from here to there is still closed. I forgot on my way back from campus, though, and ended up being another looky-loo.
Good heavens, the smell. Living in Iowa, I am subjected to the occasional cow pasture or hog lot stink, but not normally in the middle of town. It was worse than a cow pasture...almost but not quite on par with a hog lot. I started gagging and had to roll up the car windows.
Seattle doesn't flood or get a lot of snow, does it?
Posted by Jennifer at June 24, 2008 08:32 PM | TrackBack