*Dwelling Equals Insomnia, Denial Equals Sleep
I find I sleep better if I don't think about it too much...no use getting all distraught until you know how distraught to get. Or something.
The only recent aerial photos do not show my specific building, but other buildings I can see in my apartment complex have at least half the first floor under water.
And here is the intersection a few blocks away...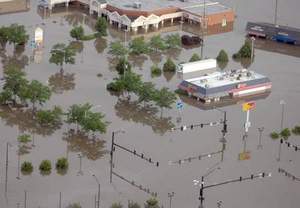 (click to enlarge)
The traffic light posts give good perspective as to depth. This intersection is on lower ground than my building, but not by a whole lot.
Donations to the Red Cross, United Way, University of Iowa Flood Fund, or even to me would all be greatly appreciated.
Anyway, as I can actually get back to my building to have a look-see (estimated to be about two weeks from now), I'll take pictures and all that. Hopefully my desktop computer with the memory card reader made it through okay (I had it 6 feet off the ground). Otherwise, well, I'm not sure how I'll show you the pics.
So that's me. How are all you?
Posted by Jennifer at June 16, 2008 11:04 AM | TrackBack